Our vision
We believe: there's another way
At BlackSatino we want to make a difference: in washroom hygiene and for the future of our planet.
This is why we develop washroom solutions that are as sustainable and circular as possible while meeting the highest standards of design and convenience. With our innovative products and services we want to increase the well-being of users in your washrooms. And we want to work with you to make the world a little better.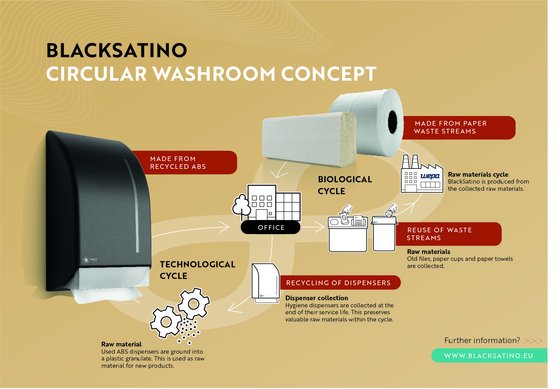 Measurable sustainability
Thinking in cycles, acting in partnership
We produce CO2 neutralised and are Cradle to Cradle Certified®. And together with our customers, we develop forward-looking solutions such as our closed-loop service concept. In the process, used paper towels from your company become new hygiene paper for your business. The result: less waste, fewer emissions and more measurable sustainability.
"In circular economy, working in partnership is essential." We listen to you and the partners from the waste management sector and develop ourselves accordingly. We also dare to say "no" once in a while in order to concentrate on the essentials. Because we are certain that transparency and honesty will take us further. And that this is precisely what leads to intelligent, sustainable products and services.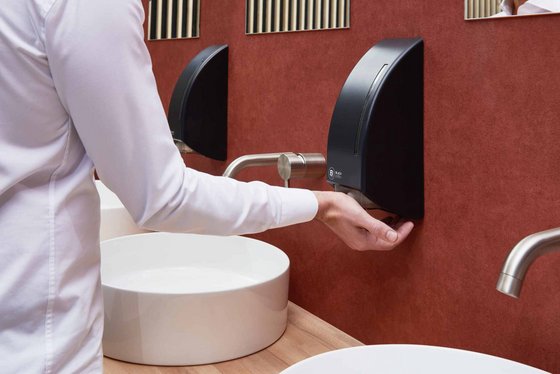 Our journey
Ideas and innovations for the environment
All BlackSatino sanitary solutions are the result of a cycle: they were produced from sustainable, responsible raw materials and without harmful chemicals. They are harmless to humans and the environment and 100% CO2 neutralised.
Our ideas however are not just standard solutions: we are constantly renewing and developing ourselves and our products. For example in the past, only office paper was used as a raw material for producing our hygiene papers – until we developed a unique process. This enables various paper waste streams, for example used towel paper, to be used as a valuable raw material for new products.
We are absolutely certain: the future belongs to the circular economy. We help you to put this into practice. Simply start in the washroom.