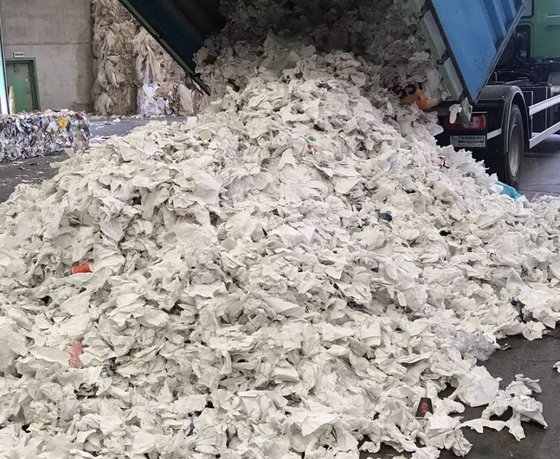 Avoiding residual waste
Using towel paper as a raw material
Our aim is to make washrooms more sustainable and circular. With our innovative circular service concept, we invite you as companies and organisations to participate in this proposal.
Used towel papers are thus no longer disposed of as residual waste at your site but serve as raw material for the production of hygiene paper. This paper is then used again in your organisation's washrooms. Moreover, by keeping the paper in the region, BlackSatino circular concepts avoid unnecessarily burdening the environment.
In this way you achieve more than just a measurable reduction in residual waste. You secure raw materials and ensure environmental savings in terms of CO2 emissions, energy and water – and you are part of a forward-looking, closed cycle.
Paper retrieval
The circle is complete
This is what a perfect cycle looks like:
you collect your company's paper waste (we will be happy to explain how this is ideally done).
Your paper waste is collected by the waste disposal company and transported to our factory as raw material for BlackSatino hygiene paper.
The toilet paper we make from it is then delivered back to your company for use in your washrooms via a service and distribution partner.
Together with the partners in this chain, we close a loop at the local level, relieve the environment and take responsibility for the waste and raw material problem.
Check paper retrieval
Do we offer paper collection in your area?
We also support your company with other sanitation services and with internal and external communication about your sustainability activities in the sanitation sector.
Would you like to learn more about our closed-loop service concept?
Then download our free e-book "How to turn your waste into raw material".

Whitepaper
From circular flow goals to facility management strategy

Facility managers play an important role in closing loops and implementing a company's circular flow goals. After all, they are the ones who determine which products and services are necessary for their company. The facility manager's guidelines provide the framework within which the buyer or contract manager operates.